.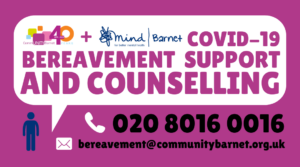 If you or someone you know has a family member or friend who is facing bereavement or has lost someone this year, our helpline and counselling service can help you deal with loss at this difficult time.
A collaboration between Community Barnet and Mind in Barnet, this service is open to anyone who lives, works or studies across the London Borough of Barnet and who has been bereaved in 2020.
The COVID-19 pandemic may affect the way you grieve and make an already difficult situation feel harder. If you are finding it hard to cope with your emotions and the practical things you have to do. We are here to listen and help.
Our helpline is the first point of contact, with our dedicated staff listening carefully to each call to determine what level of support you might need or can be directed towards.
We provide a listening ear, advice and signposting to local & national services. This includes guidance with arranging death certificates, funeral services, and financial support. After your call with us, you will be sent an information and signposting advice pack to read over in your own time. 
If you need additional, more regular emotional support, we aim to offer you up to 4 sessions of bereavement counselling. If it has been identified that further support is required, we can offer you a further 8 free sessions with one of our fully trained counsellors.
Please help us share the word of this service, so we can help guide those recently bereaved through this difficult time
You can reach the service online or via 020 8016 0016 or email us at bereavement@communitybarnet.org.uk